South Africa's president has declared a state of disaster to try and deal with a crippling and unprecedented energy crisis. South Africans have been facing blackouts every day, which have badly affected homes and businesses, but what difference will this emergency measure make, if any?
How bad are the power-cuts?
At an ice cream parlour in Soweto, one company has been struggling to keep their frozen treats cold amid rolling power-cuts, referred to locally as "load shedding".
"It's terrible," Thando Makhubu, owner of Soweto Creamery, told the BBC's Newsday programme. "When load-shedding is really, really bad, we find ourselves using our profit to run," Mr Makhubu said.
He even fears customers might stop coming to his creamery: "We have had customers who assume that we are closed, because of load-shedding, so I am really worried that if load-shedding worsens, people won't come."
His is just one of many businesses and households that have been affected by South Africa's energy shortage, which has even led to protests, with people declaring that "enough is enough".
So the pressure has been mounting on President Cyril Ramaphosa to address the issue, which he said he would confront head-on: "We must act to lessen the impact of the crisis on farmers, on small businesses, on our water infrastructure, on our transport network and a number of other areas and facilities that support our people's lives," he said in his state of the nation address on Thursday.
Before a clapping crowd, he announced: "We are therefore declaring a national state of disaster to respond to the electricity crisis and its effect."
President Ramaphosa outlined that the escalation of the crisis would allow the government to implement "practical measures that we need to take to support businesses," he said, highlighting those in food production and retail supply chains.
"It will also enable us to exempt critical infrastructure such as hospitals and water treatment plants from load-shedding," he said, adding that it would allow the government to remove red tape for energy projects and so build them faster.
This crisis is nothing new, and has been 15 years in the making. The country's state-owned power company, Eskom, has $26bn (£21bn) of debt, old infrastructure, power stations that do not work properly, not to mention a recent strike which crippled the company.
However, the power shortage has escalated in recent months, with South Africans facing electricity cuts for 288 days last year, while this year there have been electricity blackouts for up to 15 hours a day.What difference will it make?
A state of disaster effectively means that the government is given additional powers to resolve a crisis with less bureaucracy, regulation and extra funds.
However, further details of what will change have not been made public, with one analyst, Ted Blom, telling the AFP news agency that "we don't know what the government actually plans to do".
A state of disaster was also implemented during the covid pandemic, and saw some people abusing the emergency measure.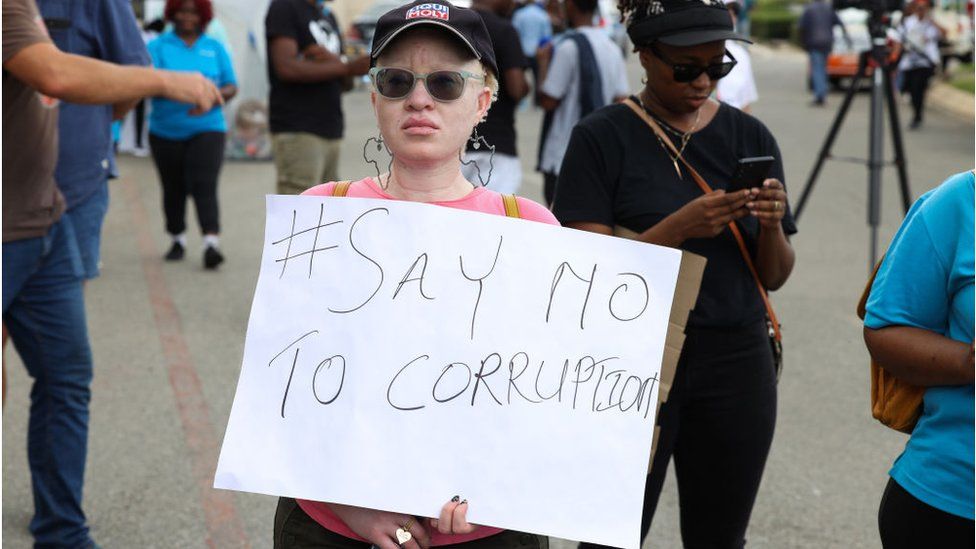 In 2020, the country's then-auditor general said he uncovered "frightening findings" of overfunding and potential fraud in the use of the Covid-19 relief fund, including some cases where personal protective equipment (PPE) was bought for five times more than the price the national treasury had advised. The government reacted by telling those accused of corruption to resign and cooperate with law enforcement.
However, the president anticipated potential corruption, and said measures will be put in place to prevent this.
But despite his attempts to address potential corruption, concerns still persist, with the chief whip of the opposition Democratic Alliance, telling the BBC that her party would be "challenging this declaration" because there should be "targeted" intervention towards Eskom instead of a general state of disaster.
"[It] gives unfettered powers to the executive, the parliament has no oversight over the executive under some of those sections of the act," Siviwe Gwarube also told South Africa's News24.
"And also more importantly, it allows government departments across the board to essentially subvert procurement processes as and when at will," she added.
There are also those who think the emergency measure will make no difference at all, and that the president hasn't taken decisive enough action.
"What the country needs at this time was a deliberate and very decisive action plan with timelines, with targets and with a progress report," Dr Nthabiseng Moleko, a development economist from Stellenbosch Business School, told South Africa's SABC news channel.
"It doesn't look like these solutions that we have are going to yield any outcome that is going to change the course and the path that this country is on," she added.
The appointment of a minister of electricity was also announced under the purview of assuming "full responsibility for overseeing all aspects of the electricity crisis response".
However, this new position has been mocked online, with some saying they would be clueless about how to solve the crisis and saying the country could soon end up with a minister of "potholes".
The president also outlined plans for the country to continue with its green energy transition programme, including through the "roll-out of rooftop solar panels".
South Africa relies on aging coal-fired power stations for most of its electricity – in 2020, just 7% of its energy came from renewable sources, according to the International Energy Agency.