At least 22 people have been killed in Israel after a major surprise attack with militants crossing into Israel from Gaza during heavy rocket fire.
There are unconfirmed reports that a number of Israelis have been taken captive back into Gaza.
Israel has launched waves of air strikes on targets in Gaza in response.
Israeli Prime Minister Benjamin Netanyahu said Israel is "at war" and vowed that Hamas, Gaza's rulers, will "pay a price it has never known".
The militants crossed the perimeter fence just after dawn, as barrages of rockets were launched from Gaza.
The Israeli military has said that dozens of fighter jets are carrying out air strikes on Hamas sites in Gaza, and that it has mobilised tens of thousands of reservists.
At least one Palestinian has been killed in the strikes, local health officials say.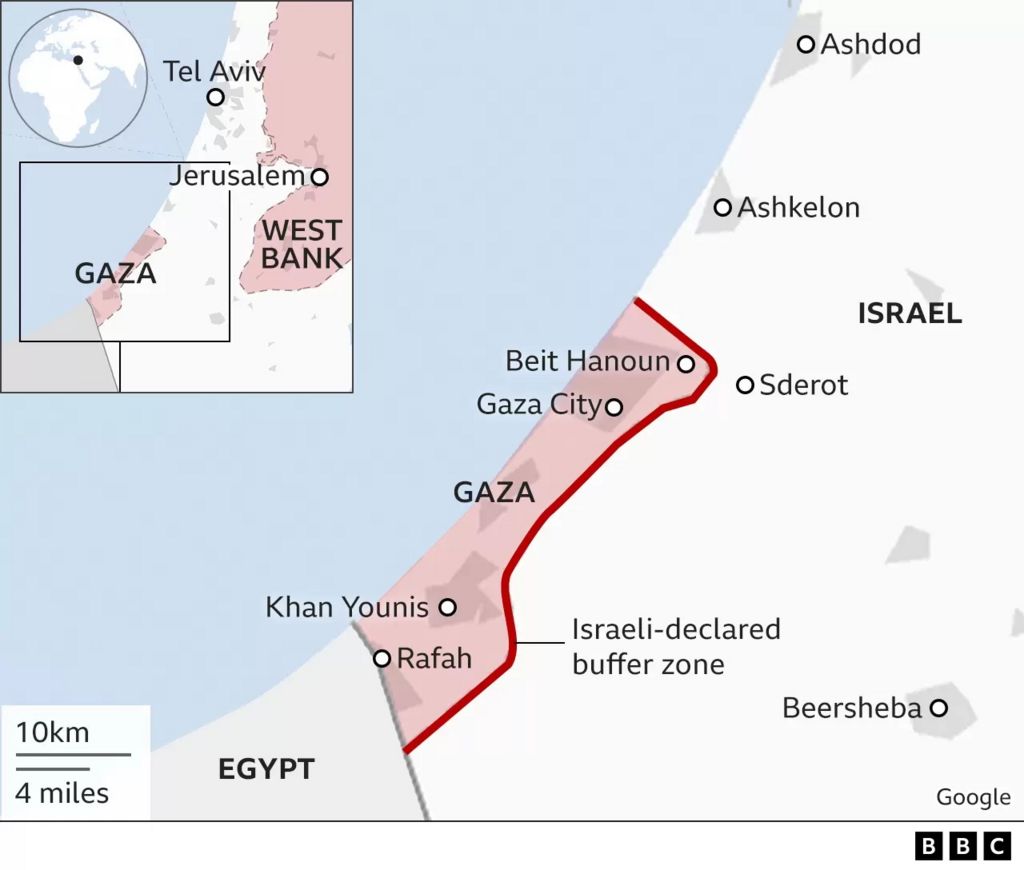 The rocket barrages from Gaza began just after dawn on Saturday, the Jewish Sabbath and the day of the festival of Simchat Torah.
As sirens sounded across Israel, the IDF announced that "terrorists" had infiltrated Israeli territory "in a number of different locations".
Footage posted online appeared to show a group of heavily armed Palestinian militants dressed in black fatigues driving around Sderot in a pick-up truck.
In one video, the same militants seemed to be exchanging fire with Israeli forces on the streets of the town, which is only 1.6km (1 mile) from Gaza.
There are also unconfirmed reports in the Palestinian media that a number of Israelis have been taken captive by militants and footage circulating of Palestinians in Gaza driving Israeli military vehicles.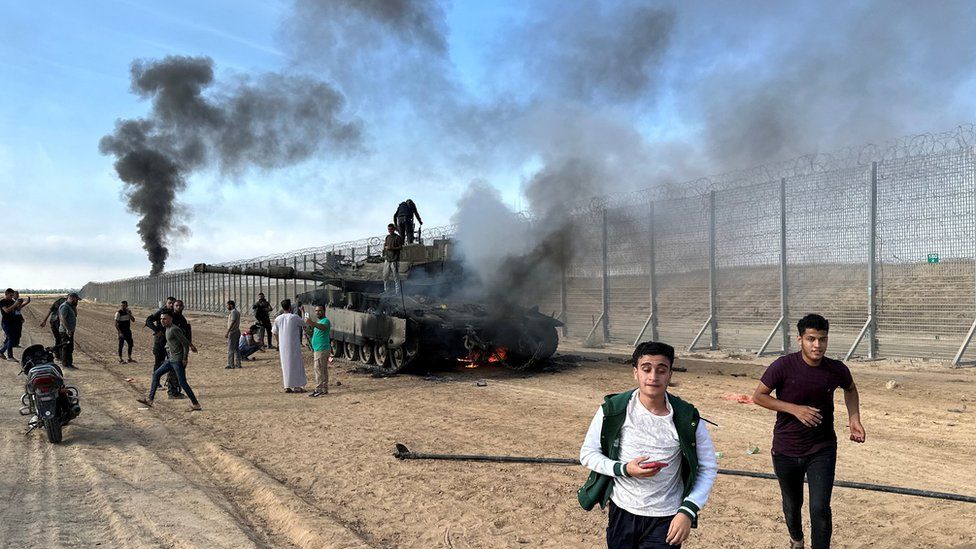 Some 545 Israelis have been wounded in the Hamas attacks, Israel's health ministry says.
But the leader of one regional council in southern Israel, Ofir Liebstein, was killed in an exchange of fire with militants when he went to defend his community.
The rocket barrages meanwhile continued throughout Saturday morning, with Israeli media reporting that more than 2,500 projectiles had so far been launched towards Israel.
Hospitals in the southern city of Ashkelon and central city of Beer Sheva are treating casualties.
"Citizens of Israel we are at war, not an operation, not an escalation, a war," Prime Minister Netanyahu said in a statement. "This morning Hamas launched a murderous surprise attack against the state of Israel and its citizens."
"I convened the heads of the security system, first of all I instructed to cleanse the settlements of the terrorists who had infiltrated – this operation is being carried out during these hours."
"At the same time, I ordered an extensive reserve mobilisation and a retaliatory war with a strength and scope that the enemy has never known."
A senior Hamas military commander announced the start of the operation in a broadcast on Hamas media, calling on Palestinians everywhere to fight.
"This is the day of the greatest battle to end the last occupation on Earth," Mohammed Deif said.