Without commercial interruptions or rushed acceptance speeches, Sunday's Screen Actors Guild Awards, which streamed on Netflix's YouTube channel, was one of the more relaxed award events in recent memory.
If you were among the million or so viewers who watched the show live, you might have felt a little more like you were in the room than at home. Without a traditional broadcast partner, the show felt unfiltered, with glimpses of stars mingling between presentations and plenty of speeches sprinkled with curse words that went uncensored.
Seated at a center table near the stage was Netflix CEO Ted Sarandos. The streaming giant will become the new home of the SAG Awards next year, and Sarandos, who appeared beaming at times on Sunday, may have given ratings-challenged award shows a formula for future success: keep it candid.
Award events get pared-down in the public discourse to a few moments of genuine emotion and humor that lend themselves to social media feeds and morning talk shows. The pacing of Sunday's SAG Awards seemed to allow for more of them.
Here are some of the event's highlights you may have missed:
James Hong, the nonagenarian charmer
The cast of "Everything Everywhere All at Once" took turns celebrating and dancing over their best ensemble win, before ceding the stage to James Hong, one of the film's stars. The 94-year-old actor spoke with humor and heart about his long career in an industry where he faced much discrimination.
"My first movie was with Clark Gable, but back in those days, the leading role was played by these guys with their eyes taped up, and they talked like this," said Hong, mimicking the offensive accent that was written for Asian characters at the time. "The producer said the Asians were not good enough and they (were) not box office, but look at us now."
"I hope I will come back when I'm 100 years old," Hong said.
Austin Butler, the ultimate gentleman
"Elvis" star Austin Butler was captured by cameras offering his arm to help escort several honorees like Sally Field and Jennifer Coolidge to the stage.
His "sweetheart" chivalry did not go unnoticed on Twitter.
Aubrey Plaza and Jenna Ortega, the not-odd couple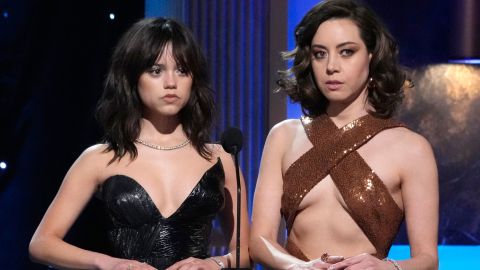 Deadpan duo Aubrey Plaza and Jenna Ortega had one of the evening's funnier presentations. The two wondered rhetorically why they were paired together to present the award for best male actor in a TV movie or miniseries.
"We should find the people who did this," Plaza said, before Ortega joined in and the two said in unison, "and curse their families, and watch as misfortune follows their bloodline for the next seven generations."
READ ALSO: ENTERTAINMENT: Deacon Famous, popular skit maker give reports about his Polling unit
Dark comedy gold.
Colorful adverbs
"Abbott Elementary" creator and star Quinta Brunson was among several actors to include a few, appropriately timed curse words on stage.
"They are the best, and they are so f—ing funny all the time, y'all," Brunson said of her sitcom cast.
"I'm in awe of all of them at every single turn and we just want to say thank you and [we're] honored to be in the category with such amazing shows with amazing actors, peers of ours," Brunson continued. "The peer award hits different though, don't it? I feel good…So, thank you!"
We didn't miss the beeps.
Winners to root for
Brendan Fraser, who won for best performance by a lead actor for his role in "The Whale," was one of several winners who had a poignant acceptance speech that had the audience in tears along with him.
"He's someone who is on a raft of regrets, but he's in a sea of hope, and I've been at that sea and I've rode that wave," Fraser said of his character in the film. "All the actors out there who have gone through that or who are going through that, I know how you feel. But believe me, if you just stay in there and you put one foot in front of the other, you'll get to where you need to go."
Ke Huy Quan and Michelle Yeoh's historic wins as the first Asian actors to win their respective categories charged the room with excitement and brought the crowd to their feet.
Their castmate Jamie Lee Curtis acknowledged her "nepo-baby" privilege as the daughter of two actors during her acceptance speech for best supporting actress, yet it's hard to fault success when it is so sincerely received.
"I know that so many people in our industry who are actors don't get to do this job, and you look at nights like this and think, 'Is that ever going to be possible for me?' And I know you look at me and think 'nepo baby,' that's why she's there, and I totally get it," Curtis said. "But the truth of the matter is I'm 64 years old, and this is just amazing."